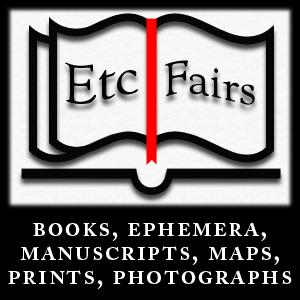 Etc Fairs' monthly London Book Fairs are held at the Royal National Hotel, Bloomsbury, and run throughout the year. These fairs are extremely popular with dealers and visitors, the Bloomsbury Book Fair is the largest monthly book fair in the UK and attracts some of the UK's finest specialist dealers.
The Bloomsbury Book Fair, the largest of three fairs organised by Etc Fairs is held in the Galleon Suite of the Royal National Hotel; the Bloomsbury Book & Ephemera Fair, which specialises in books, maps, prints and ephemera and now postcards, is held at the same hotel in the Galleon 'A' suite, and the Gerrards Cross Book Fair, which runs on Saturdays, approximately six times a year is in the Memorial Centre in Gerrards Cross.
All fairs have a range of antiquarian books, second hand books, out of print books, maps, prints, postcards, manuscripts and ephemera on sale, the Bloomsbury Book Fair also has auctioneers and bookbinders regularly exhibiting.
Visitors, whether they are dealers or casual collectors, or just enthusiasts about the printed word will find something – all are welcome!
NB. There will be an entry charge of £2 to the Bloomsbury Book Fair from 10am until 12.30, thereafter entry will be FREE.
Twitter: @EtcFairs
___________________________________________________________________________
DATES
Sunday 6th March
This month the fair incorporates Specialist Military Dealers
Sunday 10th April
This month we welcome exhibitors from The Ephemera Society
Sunday 8th May
Sunday 22nd May
Our annual summer 'bonanza' !!
Sunday 10th July
This month we welcome exhibitors from The Ephemera Society
Sunday 14th August
Incorporates Specialist Military Dealers
Sunday 11th September
Sunday 9th October
This month we welcome exhibitors from The Ephemera Society
Sunday 13th November
TIMES
10:00 am to 4:00 pm
LOCATION
Royal National Hotel
Bedford Way
London
WC1H 0DG
FOR MORE INFORMATION
http://www.bloomsburybookfair.com/
___________________________________________________________________________